For centuries the magical fantasy of rocking horses has sent many a growing person into squeals, stirring their imagination and encouraging pretend play. While historically the toy was reserved for nobility, due to its laborious, elaborate and hence costly manufacturing process, it has, in more recent decades, been simplified and mass produced to cater for a growing market. Antique examples, however, are rare and make for one of the most charming heirlooms there is…not least due to their enormous decorative qualities, handmade finishes and individual character.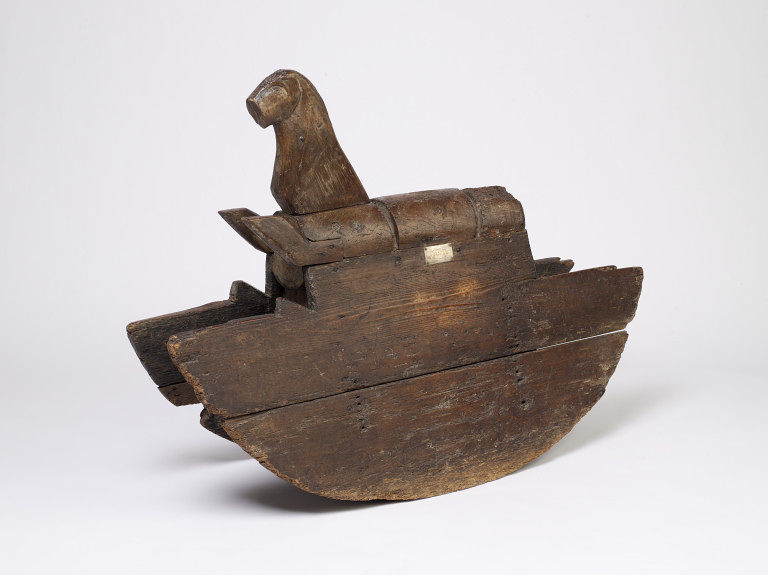 Though versions of the toy horse appeared as early as 400BC in Greece and Persia, it was not until the 17th century that the rocking horse, as we know it today, was firmly established in Europe. The earliest versions of such horses, assumed to be for pulling, were however not nearly as sophisticated as the later rocking horse which is believed to have derived from the traditional cradle (see above).
There are two main types of antique rocking horses: the first one being fused to curved half-moon or bow rockers requiring rather a large amount of space and not only being in the habit of leaving angry marks on carpets and floors alike, but sending many an overexcited rider flying; the second, later invention glides on swing arms and is referred to as a 'safety stand' requiring not only less space, but proving more robust and safe for its horseboy or girl. The safety stand was an American invention which was patented by Philip Marqua in London in January 1880.
Though the most well known rocking horse fabricator was F.H Ayres, a London based company specialising in sports goods and board games who broke into the rocking horse market in the 1860's and selling their bow and safety stand horses through Harrods and Selfridges, other makes such as Lines Bros., Wilson, Leeway and Patterson Edwards soon made a name for themselves. The charming rocking horse pictured above currently forms part of Timothy Langston Fine Art and Antiques' stock. It is from the Edwardian era, featuring a safety stand, real horses hair and a leather saddle.
The importance of the toy can not only be observed throughout history (at the Great Exhibition of 1851, Queen Victoria's dapple grey rocking horse was considered important enough to be showcased), but it remains so today. In 2012/2013 the 'Fourth Plinth Project' at Trafalgar Square housed a little boy on a rocking horse, juxtaposed against the Great Kings of this country on their favourite horses, hence indicating the importance of setting a child on the right path from an early age.